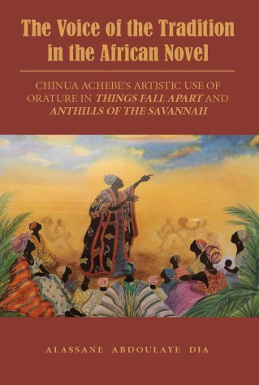 The Voice of the Tradition in the African Novel
This book contributes to the growth of African Literature, particularly to the understanding of the writings of Chinua Achebe as an icon and one of the pioneers and prominent writers in African literature. It is a scholarly work that highlights lots of topical issues over the notion of genre in terms of literary theory and criticism of the African novel. Hence, it shows broadly how Achebe uses his culture or more relevantly his oral tradition to build a literary genre that is specific to him and to Africa in general.
By evoking other critics and writers, this work focuses basically on Chinua Achebe's first and most famous novel, Things Fall Apart (1958) and his latest one, Anthills of the Savannah (1987). Handled through a sober style, a stylistic approach and from a postcolonial perspective, it offers a broad reflection on how the African writer uses the oral tradition to rehabilitate history and to let the oral culture survive within the written one by means of the novel as an archaeological instrument that makes people hear the voice of African oral tradition in the novel with innovative strategies and methods of putting things together.
Mr. Alassane Abdoulaye DIA is a young Senegalese researcher. He found interest in African literature particularly in the writings of Chinua Achebe earlier in his university career, hence, the strong motivation to specialize in this prominent African writer's works. He holds two Master's degrees in Literature & Civilization and certificates respectively in Cultural Studies from his home university and Hamline University, USA (online), Certificate of academic writing in English from the University of California Berkeley, USA (online). He is currently an English Language Instructor at Université Gaston Berger de Saint-Louis, Senegal where he is also working on his Ph.D in Comparative Literature (African & African–American literatures).
Publication Date: January, 2015
ISBN: 978-1-938598-19-7
Price: $15.00