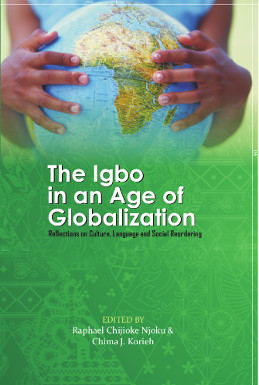 The Igbo in an Age Globalization
This book is about the Igbo people of Southeastern Nigeria and their changing ways of life in a globalized world. Here we conceive globalization as "the compression of the world and the intensification of consciousness of the world as a whole." While change is as constant as the human journey from the moment of conception to the point of death, European colonialism starting from the late nineteenth century brought new dynamics that would change the face of Africa forever. Yet, the past five decades have revealed that the new pace of change is not slowing down soon. New technological breakthroughs and swift means of communication have facilitated the interaction of peoples from all corners of the world with exchange of cultures and ideas at a pace never experienced in history. While the result of globalization, in all its meanings, has been both exciting and confounding, concerns have arisen as to the manner with which Western cultural trends have permeated all corners of the globe with powerful potency. The various chapters in this book mirror both the observations and anxieties held by students of Igbo studies as alien habits and forces continue to infuse into the Igbo society; remaking the indigenous people's ways of life in diverse ways.
Raphael Chijioke Njoku, PhD, Professor at Idaho State University was a first-class honors graduate of the University of Nigeria, Nsukka, and Nigeria's 16th Rhodes Scholar-elect. He received a doctorate in Political Science from Vrije University, Belgium, in 2001, and a doctorate in African history from Dalhousie University, Canada, in 2003. His research specialty is African history and African politics. He is the author of Culture and Customs of Morocco (2005) and African Cultural Values: Igbo Political Leadership in Colonial Nigeria 1900–1966 (2006) and is coeditor of Missions, States, and European Expansion in Africa (2007), War and Peace in Africa (2010), Africa and the Wider World (2010), The History of Somalia (2013), and Igbo in the Atlantic World: African Origins and Diasporic Destinations (2016). Njoku has also published forty-five scholarly articles in international journals and edited volumes. Some of his awards include the Distinguished Research Award in the Category of Social Sciences (2009), Indiana University Library Residency Award (2009), Victor Olurunsola Endowed Research Award (2007), and the Schomburg Center award for Research in Black Studies (2006–2007). Njoku is currently the Chair of the Department of Global Studies and Languages at ISU.
Publication Date: January, 2016
ISBN: 978-1938598258
Price: $18.00