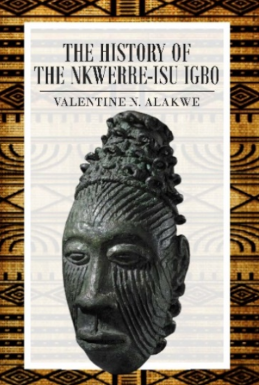 THE HISTORY OF THE NKWERRE-ISU IGBO
This book explores the history of the Nkwerre Isu Igbo (Isu Ama and Isu Ofe Iyi Igbo) groups of southeastern Nigeria. It deals with forces that shaped their cultural, social and political transformation. The book explores the mythology of the origin of the Isu clan and provides an overview of the people's customs, traditions and their social and political organizations. Additionally, the book explores the role of Isu traders, travelling blacksmiths and medicine men and the emergence of the concepts of Isu fraternity and Isu guild of blacksmiths which laid sold foundation for Isu confederation as well as the pre-colonial stigma—Isuma, meaning nomads. The book reveals that the migration and settlement of Isu people outside the primary centre paint vivid pictures of hegemony, fraternity as articulated in the concept of Isu wu otu or universal brotherhood of Isu groups. Their history, however, like that of other Igbo societies was affected by British colonial administration and the divide and rule principle of administration. The transition of the Isu from tradition to modernity was influenced by exposure to western education, the native court system, mission churches. These changes had devastating effects on the traditional institutions, norms and values of the people. Consequently, the social and economic foundation of Isu people fell to the dictates of Europeanization with attendant ills such as the decline of moral values and increase in crimes. Church propaganda among other forms of structural changes has forced the Isu communities to succumb to change and modernization.
Valentine Alakwe merits high praise for contributing to our understanding of the history of Isu group of clans and to Igbo history generally. The book offers news perspectives on intra-group relations, settlement patterns and economic and social dynamics in the core Igbo area. This book opens new vista in Igbo micro-history.
—Chima J. Korieh, Professor of African History, Institute for African Studies, University of Nigeria/Marquette University.
Valentine Ndubuisi Alakwe hails from Umuozu Town in Nweingele Local Government Area of Imo State, Nigeria. He is a journalist and an archivist by training. He was educated at Ojike Memorial Secondary School, Orlu and Isu High School, Isu respectively. He studied at the Enugu State University of Science and Technology (ESUT) Enugu, where he obtained his bachelor's degree (B. Sc) and Masters (M.Sc.) in Mass Communication. He is presently the Head of Department (H.O.D.) and Zonal Coordinator, National Archives of Nigeria Enugu Zonal Office, a Department of the Federal Ministry of Information and Culture, Nigeria.
Publication Date: May 2020
Size: 5.5×8.5/paper/232+x pages
ISBN: 978-1-938598-42-5
Price: $25.00