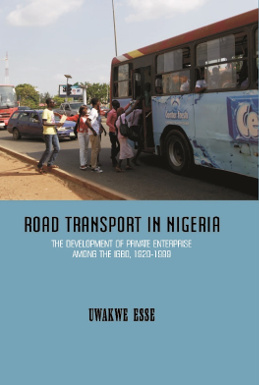 ROAD TRANSPORT IN NIGERIA
The relationship between transport and economic development has in recent years remained a subject of acrimonious debate among economists and development economists. Modern transportation is a critical prerequisite for economic development and growth. It is fundamental to all other forms of development. During the colonial period, road transport enterprise was precluded from enterprises qualified for advances or grants from the Eastern Regional Development Board (ERDN) for reasons not unconnected with its interpretation of "economic" development. This book challenges the view held by some colonial apologists, as represented by Allan McPhee and Arthur F. Richards who believed that without Western capital and organization, cultural and political progresses in Nigeria would have been impossible. The book fills the above gap in the analysis of how the Igbo applied their economic and business acumen to a novel enterprise, which over time and circumstances was beset with difficulties. This work serves as a reference material for all interested in the field of public and private enterprise.
This is a compelling study of indigenous enterprise in Nigeria and an excellent contribution to Nigerian and African economic History. Highly recommended.
—Professor Chima J Korieh, Marquette University
Dr. Esse has produced a masterpiece that has enriched our knowledge of Igbo economic enterprise and Nigerian economic history in general. I recommend this work to anyone interested in the emergence of road transportation in Nigeria.
—Dr. Uche U. Okonkwo, Department of History and International Studies, University of Nigeria.
Uwakwe Oji Esse is an Igbere Ebiri indigene, a historian and archivist by training and profession. He was educated at the Igbere Central School, Boys Vocational School Ididep, MacGregor College Afikpo and Methodist Teachers Training College Uzuakoli. He obtained his B.A. (Hons) degree at the University of Nigeria, Nsukka, his Masters degree from the same University. While working as an Archivist, he obtained his Doctorate degree in Economic History. He submitted an award-winning thesis and graduated in 2004/2005 session as the best Ph.D student in the Faculty of Arts, University of Nigeria, Nsukka. He lectured at the Abia State University, Uturu for seven years after retirement from the Federal Civil Service. As an Archivist, he opened the window of the Enugu Archives to the world by launching the Archives to the World Wide Web, the Internet. He also trained as an Archivist in India. On his retirement as a civil servant, he joined the Abia State University as a Lecturer in the Department of History and International Relations. He received many awards while teaching in the University including Best Lecturer Award of the University in the Department of History and International Relations. Since leaving the University, Dr. Esse has devoted his time to research and writing. This book is one of the most compelling books to be written by the author as a channel of preserving the history of the Igbo people and their contributions to the development of an important sector of the Nigerian Economy: Road Transportation.
Publication Date: January 1, 2017
ISBN: 978-1938598265
Price: $25.00