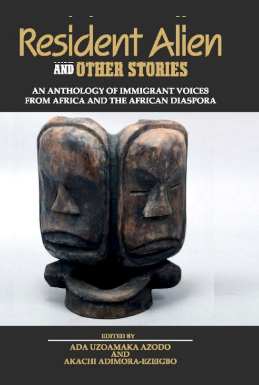 RESIDENT ALIEN AND OTHER STORIES
This anthology, Resident Alien and Other Stories, is a unique collection by many standards. First, it is a creative work realized by erudite academics turned fiction writers, whose passion for the written word comes from the desire to explore contemporary cross-cultural and identity issues, through creating in the literary short story genre. Second, as literary luminaries they have paid close attention to style, for the technique of short fiction writing demands utmost attention to the craft of writing that is only second to the demands of poetry writing. Third, the collection spans a wide range of materials, from children's story, crime, feminism, love, sex and romance, poetry, rhetoric, ethnics and racism. Those are realistic subjects featuring directly lived experiences or experiences of people the writers have observed. Some of them are so real that they might annoy someone. However, the contributors request not to be liked or disliked for their work, but rather to be admired for their exploration of human drama and for their creative genius. Fourth, their stories are not stereotypical nor are they designed to prove something. On the contrary, they reflect the sheer complexity and complications of human communities across transnational borders. Despite the research that has gone into them, they are clear, lucid, believable, and authentic stories in which the characters drive the human narrative with their everlasting quality. We challenge the reader to ascertain the stories that were written long ago and put away bidding the time and opportunity to be published, and those written recently, impetuously, as it were, to respond to the call for contributions to this anthology. Finally, this first fruit of the harvest season is a forerunner of the next collection and other collections in a series to come. Stay tuned!
Professor Ada Uzoamaka Azodo, educator, literary and cultural critic, scholar, feminist theorist (Di-feminism), recipient of the Marquis Who's Who V.I.P. Albert Nelson Marquis Lifetime Achievement Award, teaches African, African American and African Diaspora Studies, and is currently affiliated with the College of Arts and Sciences, Indiana University Northwest, U.S.A.
Professor Akachi Adimora-Ezeigbo, multiple award-winning literary luminary, critic and activist, feminist theorist, (Snail-sense feminism), international scholar, educator, teaches English Studies, and is currently affiliated with the Department of Languages and Literary Studies, Alex Ekwueme Federal University, Ndufu-Alike, Ikwo (AE-FUNAI), Ebonyi State, Nigeria.
Publication Date: January 2020
ISBN: 978-1-938598-41-8
Price: $ 25.00