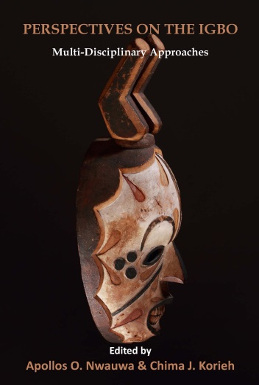 Perspectives on the Igbo: Multi-Disciplinary Approaches
Perspectives on the Igbo: Multidisciplinary Approaches explore an array of topics and themes that address aspects of the Igbo past, contemporary challenges and prospects, and Igbo identity at home and in the diaspora. This collections deals with the pre-historic past of the Igbo through the Igbo experiences in contemporary times. It covers a range of disciplines, including history, arts, culture, language, music, education, gender and youth. Here is a book that will enrich the knowledge of anyone interested in a broad overview of the Igbo experience.
Dr. Apollos Okwuchi Nwauwa is a Professor of History & Director of Africana Studies at Bowling Green State University, Ohio, USA; with teaching and research focus on modern Africa, especially colonial and post-colonial, intellectual and diaspora history. He has published extensively on diverse topics on African, Nigerian, Igbo, and African Diaspora Studies. More recently, Dr Nwauwa coedited two anthologies on the Igbo of Nigeria – Against All Odds: The Igbo Experience in Post-Colonial Nigeria and Between Tradition and Change: Sociopolitical and Economic Transformation among the Igbo of Nigeria (2011 and 2012) and another on Nigerian Political Leaders (2015). He is the Editor of OFO: Journal of Transatlantic Studies.
Publication Date:
ISBN:
Price: $35.00