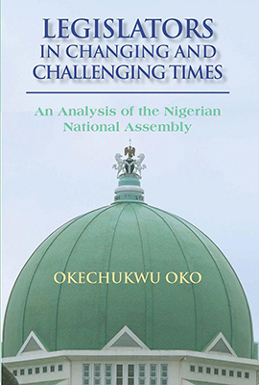 Legislators in Changing and Challenging Times: An Analysis of the Nigerian National Assembly
African legislators deal with a myriad of anxieties: about the excesses of overbearing and dictatorial party leaders; about increasingly disenchanted and restive voters who skewer them with charges of insensitivity and selfishness; about a dysfunctional electoral process that often fails to function effectively and fairly; about an executive branch that frequently mistakes cooperation for surrender. These anxieties have profound and far-reaching effects on legislators and often depress the zeal and optimism with which they perform their duties. Cumulatively, they produce the incubus that threaten not only the independence of legislators but the effectiveness of the entire legislature. This book examines the problems and challenges facing legislators in Nigeria. It presents an account of where the legislature in Nigeria has been, where it is headed, and where and what it should be. An examination of the legislature will enhance both an understanding of the role and functions of the legislature in a democracy and clarify how the cultural milieu in which legislators live and operate affects and constrains their functions. By engaging in historical and empirical analysis, it seeks to identify contemporary trends in the legislature and to provide an informative analysis of the interplay between environmental factors and the exercise of legislative powers. Ultimately, this study will present an account of the resilience and tenacity of the Nigerian National Assembly. It will document how legislators exert themselves, face seemingly intractable problems, and battle furiously, and for the most part successfully, to honor their commitments both to this nation and its search for a durable constitutional order.
Okechukwu Oko is the Dodson-Hook Professor of law at Southern University Law Center, Baton Rouge, Louisiana.