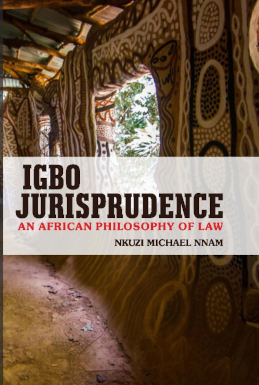 Igbo Jurisprudence: An African Philosophy of Law
This book presents a comparative study of Anglo-American and Igbo jurisprudence from a philosophical, historical, expository, investigative, interpretative and most of all, comparative and jurisprudential perspective, since jurisprudence is defined as an examination of the legal process through critical analysis. It attempts to compare and contrast the Anglo-American jurisprudence with that of Igbo in order to familiarize Nigerian law students, professors, judges and lawyers with the fact that Igbo has its own jurisprudence. The book challenges the widely held view that the Igbo has its own jurisprudence different from the common law based English type. They manifest this prejudice by the way they recourse to Western, to the detriment of African jurisprudence. This book dispels this bias. The work, therefore, is the first of its kind, not the least because it considers the Igbo traditional jurisprudence as an equal partner to the dialogue. A basic examination of Igbo and Anglo-American jurisprudence shows more contrasts than similarities between the two societies as we might expect.
Dr. Nkuzi Michael Nnam obtained a Bachelor's degree (Summa Cum Lade), a Master's degree, and a Ph.D. in philosophy from DePaul University in Chicago. He is currently a Professor of Philosophy and the Director of Black World Studies at Dominican University in River Forest, Illinois. Dr. Nnam has published numerous articles. He is the author of the book Colonial Mentality in Africa, and the director of the Center of Igbo Studies in the United States.
Publication Date: January, 2020
ISBN: 978-1-938598-40-1
Price: $30.00