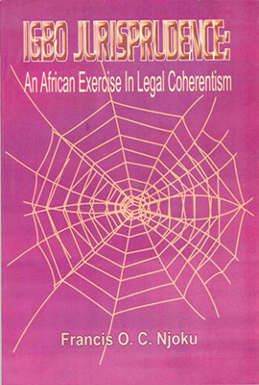 Igbo Jurisprudence: An African Excercise in Legal Coherentism
Igbo Jurisprudence: An African Exercise in Legal Coherentism is a theoretical endeavour to establish how Igbo African Jurisprudence can be rationalized along side Igbo African ontology. The book studies Igbo world and through a hermeneutical method makes explicit the philosophical and legal ideas implicit in it. Against a backdrop of a covenant theory of Igbo socio-political communication, it explains issues such as law, rights, rules, authority, morality and initiative democracy as tooted in Igbo African ontology. In specifically discussing the is-ought problem in Igbo Jurisprudence, this short but intense work proposes legal coherentism as a theory that ties together the natural law and the legal positivist inclinations of the Igbo socio-legal mind. Given the issues treated, this book is at once an essay in Igbo jurisprudence, and social/political theory.
This book explores the fundamentals of our laws and the theoretical basis of our existence as a nation in a Savignyian sense….The author has shown how to root Igbo jurisprudence in Igbo ontology, and has resolved the problem of identity of Ndi-Igbo which, incidentally, is the greatest problem of the Igbos as a nation."
–U. U. Chukwumaeze, Abia State University, Nigeria.
Francis O C Njoku, cmf holds a Postgraduate Diploma in Legal Studies (Oxford, UK); MA Theology (Pittsburgh, USA); and BPhil., Licentiate in Phil., and PhD (Gregorian, Rome). For six years, he served as Dean of Philosophy at the Claretian Institute of Philosophy, Maryland Nekede, Owerri, Imo State, Nigeria. He has published widely in local and international journals. His major works include Studies in Jurisprudence: A Fundamental Approach the Philosophy of Law (2001, 2007); Philosophy in Politics, Law and Democracy (2002); Essays in African Philosophy, Thought and Theology (2002); The Empiricists and Causation in Law (2003); Development and African Philosophy: A Theoretical Reconstruction of African Political Economy (USA, 2004); Studies in Ethics (2006);. He is presently teaching philosophy at the University of Nigeria Nsukka.
Publication Date: January, 2009
ISBN: 978-049-955–5
Price: $10.00