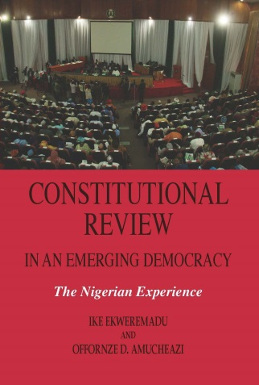 As developing democracies around the world, especially in Africa and the Middle East, attempt to uphold the rule of law and engender good governance, such effort is often essentially underpinned by constitutional development. Unfortunately, less emphasis has been placed on the process of constitution making. Rather, until recently, so much of the emphasis has been on the content of a constitution. This book is an important intervention to address this lacunae in Nigeria. It undoubtedly provides international and national actors with a new perspective and perhaps, practical guidance on designing and implementing constitution amendment processes. It identifies structures, processes and strategies that have enhanced constitution amendment exercises in Nigeria. It chronicles the manner in which the National Assembly of the Federal Republic of Nigeria has robustly nurtured and managed Nigeria's complex, contentious, and multifaceted constitutional reform process. It also gives insights into the problems and challenges of constitution amendment in a nascent democracy as well the opportunities it presents for future development.
 and the Speaker of the Parliament of the Economic Community of West African States (ECOWAS Parliament). He holds both Bachelor of Laws and Master of Laws degrees from the University of Nigeria and a Doctor of Laws degree from the University of Abuja. He has also obtained Leadership Certificates from Harvard University and Oxford University. Prior to his entry into politics, he was a legal practitioner and an Associate Lecturer at his alma mater. Before his election into the Senate in 2003, he held several positions amongst which were Chief of Staff, Enugu State Government House from 1999-2001; and Secretary to Enugu State Government, 2001-2002.
Offornze D. Amucheazi, a 1990 graduate of the University of Nigeria is a Legal Practitioner and Professor of Law at the Nnamdi Azikiwe University, Awka. A former Head of the Departments of Commercial and Property Law as well as Public and Private Law, Prof. Amucheazi has at various times been a member of the Council of Legal Education, the National Executive Committee of the Nigerian Bar Association as well as former Secretary of the Enugu Branch of the Nigerian Bar Association. He has been a Consultant/Special Assistant to a Central Bank Governor and is currently the Lead Consultant to the Senate Committee on the Review of the 1999 Constitution. He is currently on leave of absence at the National Institute for Legislative Studies, National Assembly.
Publication Date:
ISBN: 978-1-93859-815-9
Price: $45.00