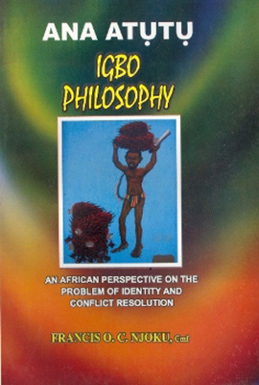 Ana Atutu – Igbo Philosophy: An African Perspective on the Problem of Identity and Conflict Resolution
This book is an attempt to found an African Philosophy on the principles generated by African Philosophy itself.  It is a book that rationalizes Igbo African Philosophy, drawing from it non-philosophical corpus to make explicit the philosophy implicit in it. This book is s venture that takes on the problem of identity in the light of contemporary studies regarding conflict resolution.
This book is a brilliant work of synthesis presented in a style that is a delight to read….It is a detailed examination of troubling issues of  identity and conflict resolution and a must read for all interested in Igbo philosophy and views towards these issues"
—Professor Chima J. Korieh, Marquette University
Francis O C Njoku, cmfholds a Postgraduate Diploma in Legal Studies (Oxford, UK); MA Theology (Pittsburgh, USA); and BPhil., Licentiate in Phil., and PhD (Gregorian, Rome). For six years, he served as Dean of Philosophy at the Claretian Institute of Philosophy, Maryland Nekede, Owerri, Imo State, Nigeria. He has published widely in local and international journals. His major works include Studies in Jurisprudence: A Fundamental Approach the Philosophy of Law(2001, 2007); Philosophy in Politics, Law and Democracy (2002); Essays in African Philosophy, Thought and Theology (2002); The Empiricists and Causation in Law (2003); Development and African Philosophy: A Theoretical Reconstruction of African Political Economy (USA, 2004); Studies in Ethics (2006);. He is presently teaching philosophy at the University of Nigeria Nsukka.
Publication Date:
ISBN 978-088-520–5
Price: $ 10:00
(e-book: $5.00