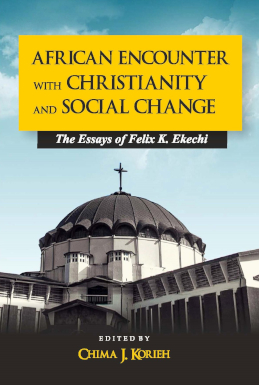 African Encounter with Christianity and Social Change: The Essays of Felix K. Ekechi
African Encounter with Christianity and Social Change draws from some of the most important essays of one of the pioneer historians of Christianity in Africa. The book covers a range of themes from the work of Felix K. Ekechi, focusing on critical analysis of Africa's encounter with Christianity. The book explores a broad range of themes, including historiography. Pioneers in the mission field, collaboration in the mission field and instruments of evangelization. The intersection of religion, economy, culture is visible in the analysis and struggle to Christianize African societies is made manifest as Africans attempted to balance their world with the new. The volume further explores missionary endeavor among the Igbo people focusing on the career of early Christian pioneers including the Holy Ghost Fathers and Venerable Archdeacon Dennis. Drawing on the Igbo experience, the volume reveals the impact of Christianity on politics, education and other forms of social change.
The volume also explores the careers of African pioneers in the mission field and the struggle to Africanize Christianity focusing on the works of M. D. Opara of Nigeria and the Nigerian Zion Mission. The chapters in this volume draw attention to the role of Christianity as one of the most dynamic forces in Africa's encounter with Europe and modernity and Ekechi's influence in defining the contour of the transformative impact of this encounter.
Perhaps the greatest attraction of Ekechi's essays is the fact that he was able to write such rich and informative works, in the face of the paucity of documentary sources. The rich empirical data in the book especially in the face of important missions, such as The Holy Ghost Fathers in Eastern Nigeria, denying access to archival materials that they considered sensitive, clearly attests to the assiduousness of Ekechi as a researcher.
— Jeremiah Dibua, Morgan State University.
Chima J. Korieh is a professor of African History, Africana and Gender Studies, and Director of Africana Studies at Marquette University, Milwaukee, where his research focuses on West African economic and social history in the nineteenth and twentieth centuries. He is a Visiting Professor at the Admiralty University of Nigeria and a Research Professor at the Institute of African Studies, University of Nigeria. He was also an Adjunct Professor in the Peace and Conflict Studies Program at the University of Manitoba, Canada.
Publication Date: January 2020
Size: 6×9/paper/457+x pages
ISBN 978-1938598364
Price: $35.00